The world of online advertising was cast upon a very long shadow during the speech by Marc Pritchard (Chief Brand Officer, Procter & Gamble) on the online ad viewability, fraudulent reporting, and a call for having a unified measuring metrics for the future.
The dialogue rightly accused today's complex and fragmented media ecosystem, where marketers continue to wrestle the issues of ad fraud, transparency, independent measurement, fancy metrics, etc. and rightly demand more transparency in digital advertising.
And since the proliferation of media channels and choices continue to confuse the advertisers, the industry seems to be moving towards a tipping point where it is critical for the partners to start acting in order to restore the faith.
What Exactly Is Media Transparency?
Media transparency is the concept of defining what media has been bought, where it has been placed, and for how much it was bought for. Further, transparency in the online media is broadly classified into two categories:
Financial transparency: Being able to accurately and objectively measure the cost of advertising, as well as the returns and performance of the advertising spend.
Operational Transparency: Involves understanding of the general functioning of the campaign – where your ads are served, how is the budget allocated, what algorithms are supported by which metrics, and monitoring if the ads are being published on negative sites (terrorism, porn) etc.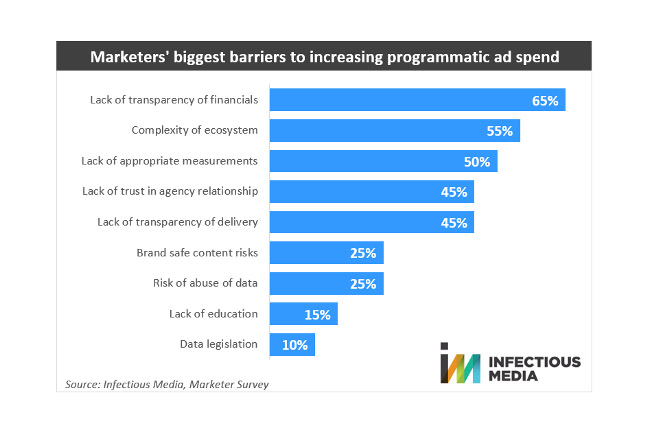 Source
How A DMP Aids Marketers For Ensuring Transparency In Online Advertising?
The main objective of transparency is to give a marketer, an accurate data about the spend of their marketing dollars with no fear of hidden margins and complete know-how of where their ads are being served.  A DMP (Data Management Platform) provides an effective and efficient platform to remove such ambiguity in the minds of the marketers.
It provides a centralized and unified view of your customers across screens. This is done by combining offline customer data with online, CRM, mobile, social etc. Unification of this data helps the brand in building stronger KPIs with their agency and media partners while facilitating accurate success and performance measurement.
A DMP provides independent and accurate data of media performance across channels which delivers true transparency of impressions and money flow through online ads.
A DMP ensures transparency and accountability between the brand, agency and media partners by allowing real time monitoring of campaign performance.
A DMP holds the key to the future in "programmatic marketing" and allows an easy and seamless integration with DSP (Demand Side Platform) to assist marketers by giving real time campaign analytics across exchanges through RTB (Real time bidding), thus giving marketers all the necessary information to make informed decisions and also be aware of where and how their ads are performing.
The Bottom Line
The sensitive issue of accountability and transparency is long debated and demands regular discussion on the right processes and strategies that an advertiser can use in order to feel confident about his/her marketing initiatives. Through this article, we have tried to deliver a clearer picture of where a marketer needs to focus and how he can tackle the situation with the help of a Data Management Platform (DMP) to ensure greater ownership, control, and transparency.
To know more about the functioning of a DMP, schedule a free demo here.
Featured Image
Comments
comments